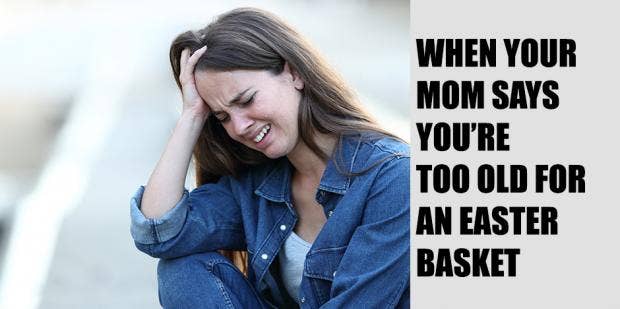 The best Easter memes shared around the internet.
Easter Sunday, for the most part, is supposed to be filled with joy, candy, and bunnies. While the popular holiday is based on Christian tradition referencing the resurrection of Jesus Christ, it has turned more secular in the United States, where families often start their day celebrating with hidden Easter eggs, bunnies, carrots and lots (and lots!) of food.
And what better way to celebrate Easter online than sharing the best Easter memes around? From funny Easter quotes to relatable memes, there are thousands of creative ways to laugh a little as you wake (way too early) for Easter Sunday service.
Easter, like most holidays, is a way to connect with family. A way to talk to your grandparents, cousins and aunts that you maybe only speak to three times a year over food and church services.
Those who live in populated places or big cities like Chicago, New York, or Los Angles then have the opportunity to bring their kids to the many community-hosted Easter egg hunt events. Or, for a more laid back way of celebrating the holiday (and don't mind waiting hours in line waiting for a seat), many people meet at restaurants for Easter-themed brunches.
Nonetheless, the one thing I love even more than being with my family for Easter? Funny Easter memes to share with my family and friends. Memes and Easter quotes never get old, and they come in all shapes and sizes. Take a scroll to see our picks of the best memes and quotes about Easter to share on Easter Sunday.
1. Just casually rising from the dead.
"Jesus on the third day be like 'aight I'm bout to headeth out.'"
2. Okay, there is such a thing as too literal.
"Easter cookies nailed it."
3. When Easter falls in the middle of the coronavirus pandemic.
"An eggsential worker."
4. What Jesus must have said Easter morning.
"Cash me outside howbow dat."
5. The saddest story in history gets better at the end.
"When you get to the part where your Lord and Savior dies, but then you remember he'll be back in 3 days."
6. The pros and cons of being an adult during Easter.
"Being an adult: Pros – I can eat 28 Easter eggs and nobody can stop me. Cons – I ate 28 Easter eggs and nobody stopped me."
7. …